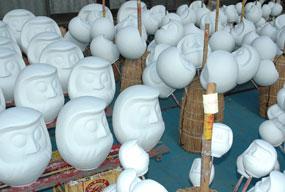 Unpainted Daruma Doll
Pickup available at BOWS & ARROWS Store
Usually ready in 24 hours
Unpainted Daruma Doll
12cm
BOWS & ARROWS Store
Pickup available, usually ready in 24 hours
17 Rue Notre Dame de Nazareth
Tue to Sat, from 12h30pm to 7h30pm
75003 Paris
France
+33983707698
This plain Daruma is good for minimalists who love the Daruma but aren't crazy about colours
Have a wish. Have a goal. Draw one eye. Make it come true
Each doll is hand painted by a master craftsmen in Gunma
Small 9cm size traditional doll. To purchase the smaller 9cm doll please click Here
This Daruma has become popular in recent years for the design and fashion community. It still inspires you to achieve your goals without having to draw the eyes. 
The traditional Daruma doll is a Japanese wishing doll that helps people to achieve their dreams and goals. Millions of people in Japan regard it as a talisman of good luck and perseverance, making it a poplar gift of encouragement.
Daruma is the Japanese name for Bodhidharma, the monk credited with founding Zen Buddhism in Japan. Covered in a priestly robe from head to toe, with big eyes wide open and lips tightly shut, Daruma dolls have a sturdy body. Their thick eyebrows are drawn in the shape of a crane and the moustache in the shape of a turtle.  It is believed that cranes live 1,000 years and turtles 10,000 years, respectively.
How to use: Make a wish or define your goal. With that in mind, draw an eye on the left eye and keep the doll. When your goal is achieved, draw the other eye.

Traditionally the left eye pupil is drawn first. It is believed to have come from the fact that left seats are above the right ones in the Japanese seating arrangement protocol. There are, however, no rules spelled out for this matter. To physically paint an eye on the pupil of a Daruma doll signifies opening of one's mind. In other words, by painting a Daruma's eye pupil, you have opened up the eyes of your mind.
Place of origin: 
Hand-made & hand painted in Takasaki, Japan