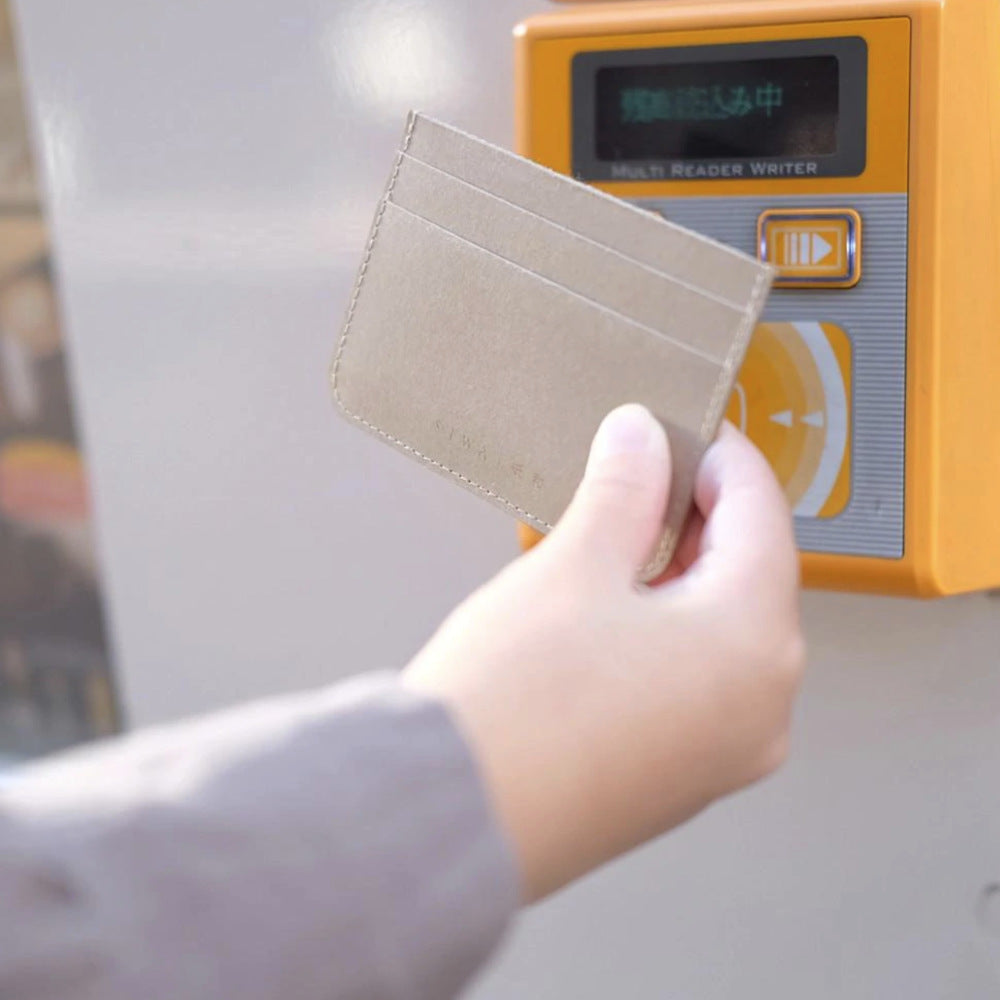 Washi Pass Case
Pickup currently unavailable at BOWS & ARROWS Store
BOWS & ARROWS Store
Pickup currently unavailable
17 Rue Notre Dame de Nazareth
Tue to Sat, from 12h30pm to 7h30pm
75003 Paris
France
+33983707698
Pass case that is water resistant and is made of material that protects it from dirt and liquids
Made "As thin and smart as possible" from the Siwa "Flat Series"
Three pockets to hold various cards
History, technology, art, and design come together to create this series
Siwa has developed an new type of paper that is water resistant, tear resistant, and extremely strong for a wide range of products from bags for stationary, wallets and home use
This "pass case" is a sleeve case for carrying credit cards, bank cards, transportation cards, medical examination tickets, health insurance cards, etc. in a thin and compact manner.
Thin and slim, it is a simple storage case that allows you to quickly take out the stored items. In addition, it has a nice texture and feel of Japanese paper, and weighs only 7 grams, which is surprisingly light. However, it has abundant storage pockets and is designed to be easy to use.
In addition to the two card pockets, the other pocket can also hold folded banknotes, receipts and receipts. Please use it as a minimal card case recommended for those who want to keep things around their wallet and money as compact as possible.
Durable Japanese paper "Hard Naoron" is used for the material of the main body. Every time you use it, it feels better and the texture increases. It is a slim and minimal storage case that you should not only prepare for travel and business trips, but also use it in your daily life.
Dimensions: H7 × W10.5 cm
Weight: 7 grams
Available in Multiple Colours
Material: Hard Naoron
Place of origin: Japan - Ichikawamisato, Yamanashi Prefecture
Features of SIWA bags:
Heavy items can be placed inside.
Has been tested for loads of up to 10kg. Testing conducted by QTEC Household Goods Testing Center. Changes may occur to load capability depending on how the product is used and with time.
Even wet items such as umbrellas can be put inside without fear of it tearing.
Please note that leaving wet items inside for long periods of time may result in changes in the colour of the product.
Care Instructions:
Pull into shape before use.
Please note that dark colours may fade or run.
Do not wash.
Clean with a well wrung out, damp cloth.
Do not iron.
Please ensure that the item does not come into contact with hot items.
Colours may change in the event that the product comes into contact with wet items.