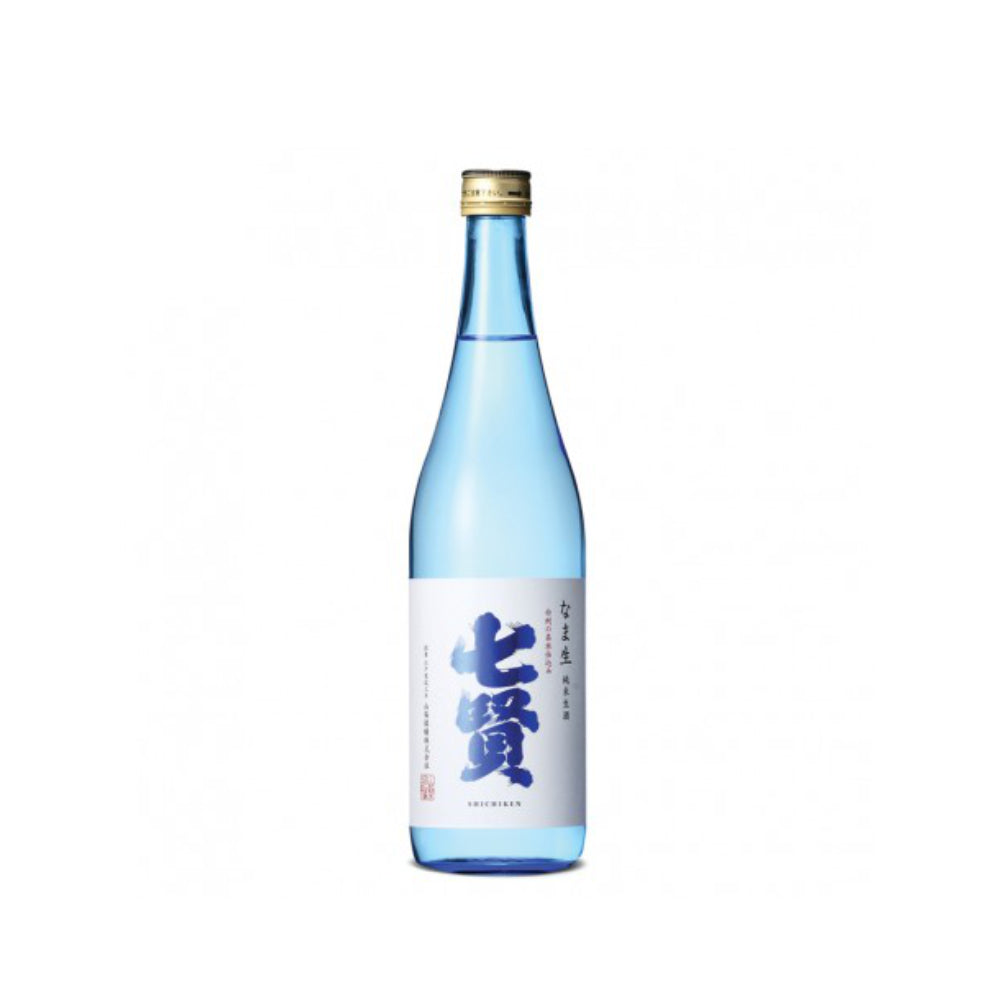 Shichiken Namanama Sake
Pickup currently unavailable at BOWS & ARROWS Store
BOWS & ARROWS Store
Pickup currently unavailable
17 Rue Notre Dame de Nazareth
Tue to Sat, from 12h30pm to 7h30pm
75003 Paris
France
+33983707698
A nose on fruits, apple and tropical fruits, which mingle with lactic notes


On the palate, a lot of freshness, a juicy sake, remains round and creamy

We end on a nice acidity, bitterness

A clear, supple and light finish.

Pairing with both raw and fresh preparations like sashimi and carpaccio, with seafood broths

With cheeses and desserts, choose them creamy

An unpasteurised sake that restores intact the sensations of purity of water

Pairs well with fish, cheese, and desserts
The unpasteurised version of Shichiken which focuses with this sake on restoring intact the sensations of purity of the water it has. We discover a rather marked nose on fruits, apple and tropical fruits, which are mixed with lactic notes typical of this category. On the palate, it is very fresh, a juicy sake that remains round and creamy. We end on a nice acidity, bitterness. A clear, supple and light finish. 
About the brewery:  The Yamanashi Meijo brewery is located at the foot of the Japanese Alps, north of Yamanashi prefecture, on the island of Honshu. It was founded in 1750 by the descendant of a long line of brewers who originally settled in the Nagano region. Mr. Kitahara, then representative of the seventh generation of this family, discovered, in the heart of the locality of Hakushu, water of exceptional quality. He decided to settle there to found his own brewery. This pure water comes from the melting snow of Mount Kai Komagatake, whose summit rises to over 2900m above sea level. It feeds the springs of the region after being slowly filtered through the granite rock, thus taking on the minerals essential for the production of sake.
Recognition was quick and the good reputation of Yamanashi Meijo went beyond the limits of the locality to the point of becoming a place of visit for the Meiji Emperor who stayed there during his official visits. Since that time, the majestic family home has been elevated to the rank of a high place of historical interest in Japan. Today, the elaboration of sake is still a family affair and the 13th generation takes care of the details, practicing in particular long fermentations, at low temperature, with the aim of preserving the signature of Yamanashi Meijo's sakes: sakes with both delicate and rich, in which we find intact the remarkable quality of spring water.

72CL 15%
Remarks: Due to custom restrictions on food related items, this product is currently unavailable for clients living in United States and Russia.