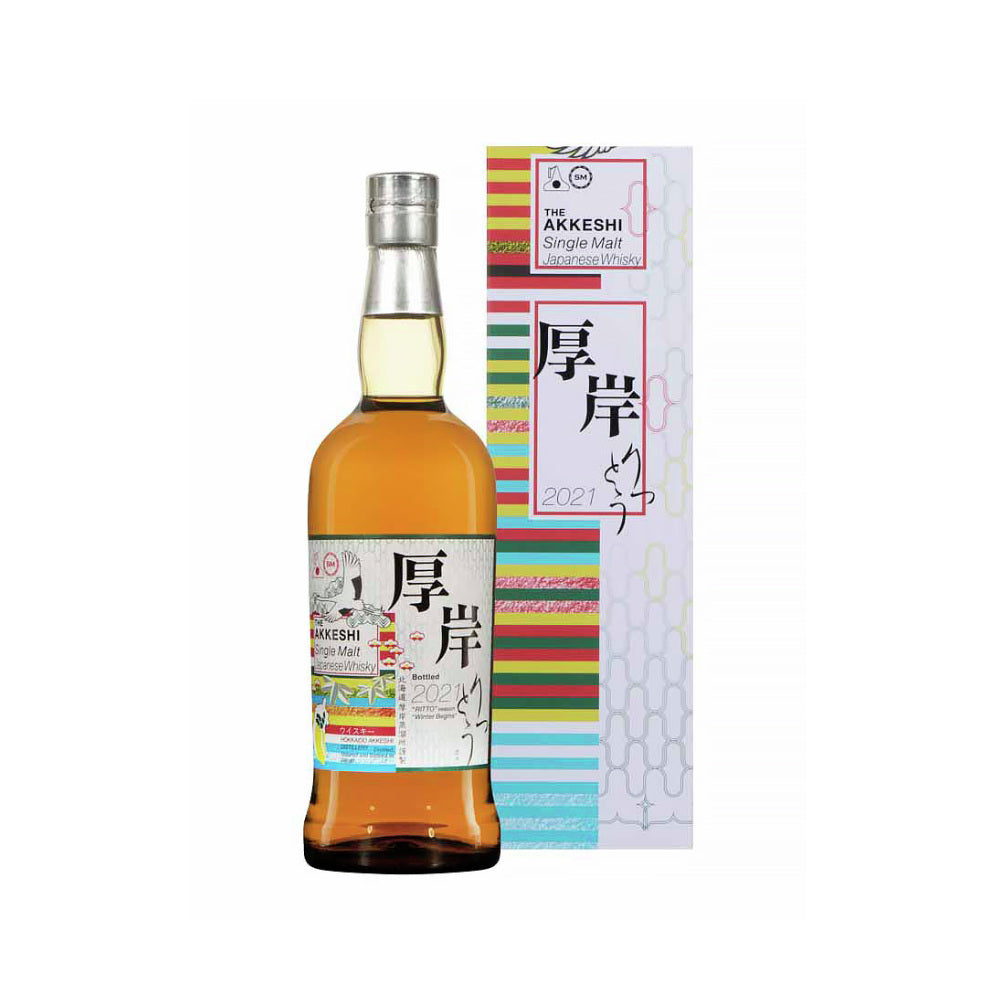 Akkeshi Single Malt Peated Ritto Whiskey - Sherry Cask
Pickup available at BOWS & ARROWS Store
Usually ready in 24 hours
Akkeshi Single Malt Peated Ritto Whiskey - Sherry Cask
BOWS & ARROWS Store
Pickup available, usually ready in 24 hours
17 Rue Notre Dame de Nazareth
Tue to Sat, from 12h30pm to 7h30pm
75003 Paris
France
+33983707698
Matured in sherry casks with hints of sherry in round aromas
Fruity and chocolaty. Citrus, white pepper, smoked.
Nose : Fruity and complex. The nose opens with the richness and freshness of a fruit basket led by orange and citrus. Notes of chocolate persist and become more delicious. The floral notes brings complexity.

 

Appearance : Or profound
Palate : Rich and mellow. Characteristic of the Akkeshi style, citrus sweetness dominates. The attack becomes slightly sour on cacao. The balance of the sweetness and bitterness is crystallized around elegant notes of chocolate.
Overall : The finish is marked by a delicious smoky peat reminding last barbecues of the summer. Spicy notes of white pepper and tangerine sweetness follow.
Made from peat and peat-free malted barley, part of which comes from a local variety grown on Hokkaido, this single malt is a blend of malt whiskies matured for 3 to 4 years in barrels of mizunara quercus crispula (oak) and sherry (cherry), bourbon and Burgundy red wine.
Akkeshi peated Ritto is the fifth single malt of the "24 Sekki" series inspired by the old Japanese calendar where a year is divided into 24 solar seasons, each of which has a name and are all associated with a specific seasonal change such as the beginning of winter or the spring equinox.
Ritto, the 19th season, is the beginning of winter when the leaves have all fallen from the trees, and the cold begins to coat and freeze nature.
Akkeshi whiskies are the result of our uncompromising commitment to single malt manufacturing and the widespread recognition of Akkeshi's environment as the best place for our whiskeys. As in Islay, the distillery is located on the seafront with the Pacific Ocean a few meters away. Surrounded by marshes, it also has direct access to local peat. You will appreciate the distinctive sweetness and fruity taste of Akkeshi whiskey.
This Akkeshi whiskey is the fifth of the '24 Solar term series'. The series is inspired by the ancient Asian calendar where a year is divided into 24 solar seasons.
"Ritto" is the time when winter begins. The deep fall breeze blows, the leaves of the trees fall, and the news of the first snow can be heard in the north regions. It is also time to start preparing for winter in preparation for passing the winter. In addition, it is the season when the traditional Japanese celebration "Shichi-go-san" is held to thank guardian god for the fertility of the year and the growth of children. At Shichi-go-san, children aged 3, 5, and 7 wear kimonos and take commemorative photos with Chitose candy. This "Ritto" label is based on the traditional design of Chitose candy.
Maturation: Mizunara (Quercus crispula Sherry, Wine (Pinot noir) casks.
Remarks: Due to US custom restrictions on alcohols, this product is currently unavailable for clients living in United States.