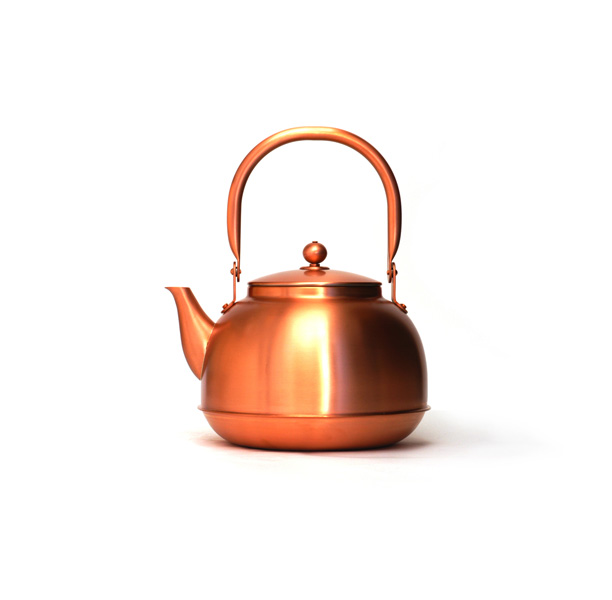 AZMAYA Copper Kettle
Elegant design, simple functionality and quality craftsmanship come together in this copper kettle by Azmaya. Copper conducts heat efficiently, so water is brought to the boiling point quickly. The kettle is light weight yet durable, and with care, will provide many years of service.
Note: The exterior surface of each kettle is protected with a beeswax coating when new. As the coating wears off the kettle will start to darken, this is the beauty of the aging process.
Not suitable for use with IH stoves.
Material: Copper with Nickel plated interior

Size: W200 × D175 × H240 mm (including handle, 150 mm to the lid's knob)

Capacity/2.18 L

Weight/620 g

Product number /AZSN00001
Place of origin: Tsubame, Nigata, Japan
Azmaya is a Nigata based collective of Japanese designers who collaborate with Japanese artisans to create contemporary products for daily life using traditional techniques and materials. All of the objects are made in Japan. Items vary from glassware, ceramics, porcelain, ironware, copperware, brassware, wooden trays, and lacquer ware.
Azmaya uses a contemporary international sense of design for tableware, whilst still being relevant for Japanese dishes. It is this juxtaposition that caught our attention. A well thought out design to create the most beautiful meal placement for any occasion.

Attention to detail and high quality materials are hallmarks of the brand and the resulting products reflect the high level of skill and superior techniques of the artisans producing craft in Japan today.