PRE-ORDERS / CHUSHIN KOBO Yohomotuko Tea Pot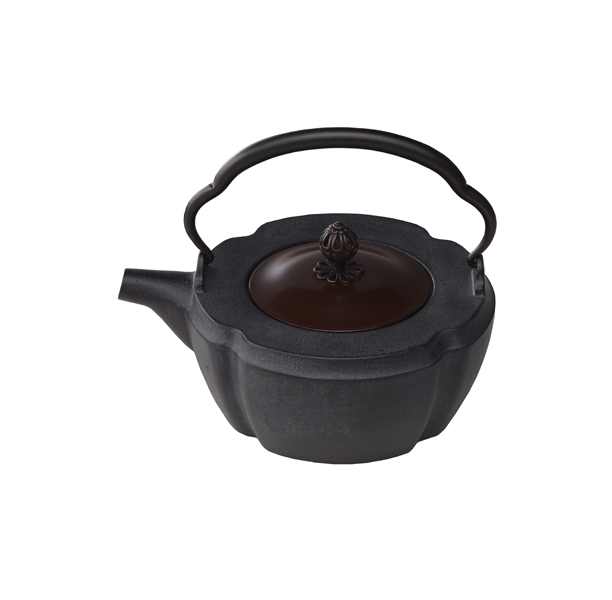 PRE-ORDERS / CHUSHIN KOBO Yohomotuko Tea Pot
Condition PRE-ORDERS:
1) 20% immediate reduction on the model
2) Lead time for Chushin Kobo series:
60 days starting from the date of the order confirmation
A model is from the "Crest" collection. These iron kettles are designed with a motif of an exquisitely designed crest from long ago. From ancient times, the scholar and military senior statesmen gave a character or a god print, and they made it into a house crest, a banner and a horse seal.
The crests originationg from these coat of arms are now as many as 4,650 types. The handle is a bow-shaped design that matches the shape of the main body, the copper lid knob is a combination of a chrysanthemum. A pine tree, a chrysanthemum split.
The finish is uncalcined at 800 degrees, an oxide film is applied then hand painted with a baked finish of urushi lacquer which is done by using a traditional technique from long ago.
Ref: HS-60
Volume: 1.5 liter
Composition:
Body: Cast iron

Handle: Steel

Lid: Copper
Place of Origin: Yamagata, Japan
sale
Ironwork began in Yamagata 950 years ago during the Kohei Period. Yoroyoshi Minamoto got an order to conquer Oushu (an old part of Yamagata)> During their battle in Yamagata, one of their warriors, (who happened to be a casting master) found that the sand along Mamigasaki river and the soil at Chitose Park was perfect for casting. He decided to move there and start working with the natural resources. Yamagata's casting continues today and is based on everyday commodity and art. It has a winning distinction with a solid reputation of traditional thin casting technique and the beauty of the surface called "Thin Beauty".
Yamagata's casting continues up to today and is based on everyday commodity and art. It has a winning distinction with a solid reputation. Yamagata casting is characterized by the traditional casting called "Usuniku-birei", which means the thin casting and the beauty of cast surface.
Craftsman Hisanori Masuda's casting studio, Chushin-kobo, aspires to design ironwork which integrates the beauty of traditional Japanese casting with modern day functionality.
Hisanori Masuda was born in 1949 in Shizuoka Prefecture, Japan. After graduating from Musashino University of Art (Fine Arts and Design) where he studied under Prof. Mosuke Yoshitake, Hisanori stayed on as a studio assistant to his professor for 5 years. During this time, Hisanori was successful in revitalizing local industries through product design. Later he moved to Yamagata City and established his own studio, "Chushin-Kobo" in 1997. He seeks to recreate objects retaining the beauty of traditional Japanese cast iron but stylishly adapted to fit contemporary life-style. Using iron, aluminum and bronze, he designs, produces and sells all his own work. He is currently a member of Japan Craft Design Association and teaches at Tohoku University of Art and Design.
Traditional craft design is not conservative. It is innovative, encompassing both the hardware and software of its era. For traditional crafts to be passed on to future generations, artisans must undertake to design practical, refined and modern items.
Cast iron eliminates chlorine from tap water, so the boiled water will be mild, have no smell and will be tasty even just as hot water. The water in turn will have iron, which is a merit to be able to take iron naturally as we need it for our body. So you can enjoy tasty hot tea with a hint of healthy iron. The iron of hot water and tannin of tea react together to make and enjoyable tasty tea.
Our selection includes cast iron tea pots with both rough and polished tops. All the teapots keep the temperature of hot water. Therefore, you can extract the taste and aroma of tea leaves carefully. In addition to this, the teapot can keep the temperature of the tea for a long time. Enjoy a chat without caring about time!
These cast iron teapots will last for many generations with care. Please dry after use to ensure that it is kept in a good condition.
We have many other models that can be ordered from the catalogues when you visit our store.