SUGAI WORLD Clip & Card Panda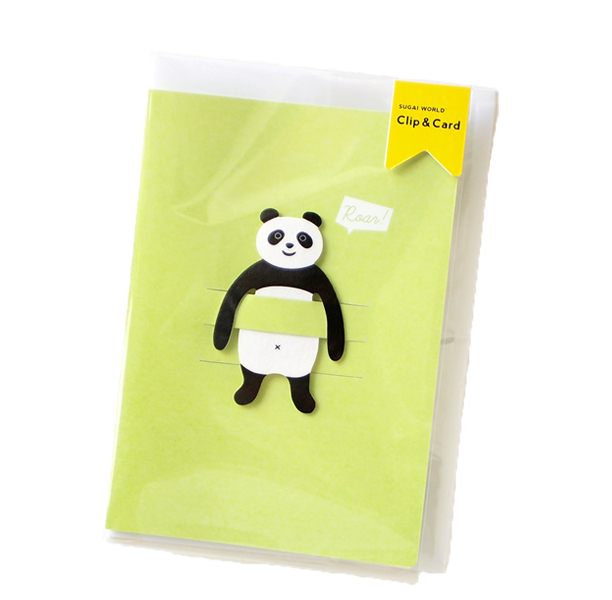 SUGAI WORLD Clip & Card Panda
While comparing to the existing "clip family", the function of the clip inside this Clip & Card set remains the same, but the size has been increased by 1.5 times. It is now easier to manage the clip freely by writing names and messages, or adding clothes and patterns.
A paper clip can trigger a little conversation and create fun communication with the person you gave it. In addition to sending messages, you can always use paper clips as a notebook or book bookmark. Paper clips are biodegradable eco-friendly eco-friendly materials.
If you put a stamp, you can send it as it is with a Western 2 envelope. Because it is a simple design, it can be used for any purpose, including birthdays, celebrations, and thanks. It is perfect for giving a book or as a card for animal lovers.
Contents:one card, one clip & 2 Hiroshi envelope

Body size: W105 × H148 × D3 (mm )

Package Dimensions:W120 × H164 × D4 (mm )

Weight:18g

Material:

Card & Envelope: paper

Clip: Fiber paper

Made in Japan
SUGAI WORLD, founded in 2011 in Tokyo, is a design gift maker with a playful attitude. Its history began with a fun sticky note called Mustache-it, a mustache-shaped sticky note. Our playful products are proudly made in Japan using eco-friendly materials. Our mission is "give imagination and dream to the world "
Designer / Yu SUGAI
Born in Yamagata prefecture, 1980. Graduated from Tama Art University, majored in information design. He has launched his own company "SUGAI WORLD Inc." after working for design company and toy company. He is working for his strong idea " creating design that gives dream".