KINTO Aqua Culture Vase (Large)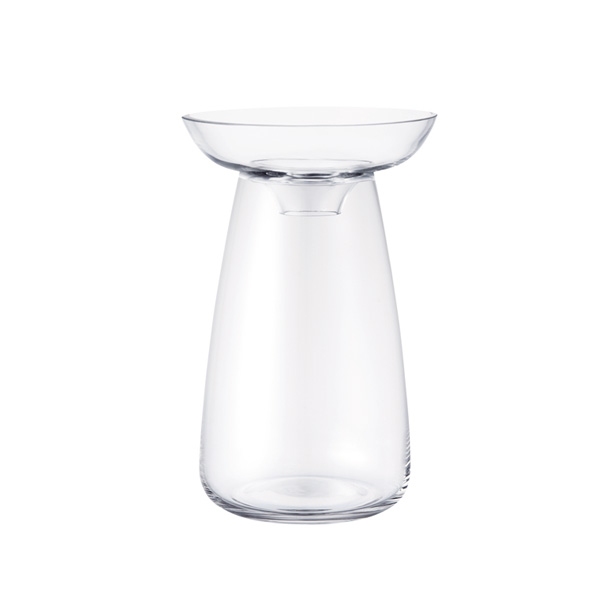 KINTO Aqua Culture Vase (Large)
The Kinto Aqua Culture Vase is an ode to life and water. Watch flowers bloom, roots grow, and let the beauty of live plants inspire you. The two-part Kinto Aqua Culture Vase is perfect for herbs, bulbs and stems. Hyacinth, avocado, ferns, leeks: no bad ideas here! Start your very own indoor garden today!
Product detail:
Dimensions:

6.8oz / 200ml: φ3.1 in x H4.9 in / φ80 x H125 mm - No. 20841

28oz / 830ml: φ4.7 in x H7.5 in / φ120 x H90 mm - No. 20843

Material: soda glass
Kinto design studio since 1972. A brand specializing in professional and home use coffee and tea accessories.
Let your day be filled with what inspires you.
It's about slowing down and seeing the beauty of nature in the change of seasons. It's about savoring a delightful dish with close family and friends to unwind and feel wholesome. It's about coming to understand the joys of finding things that feel just right in your hands. We imagine the scenes that enrich your life to develop and bring you products with genuine creativity and thoughtfulness.
Usability and aesthetics. We as makers, value the balance between these two elements. Products with an ease of use is comforting to all the senses and lead to a growing fondness over time. A tableware with elegant presence blends naturally with the living space and adds color to daily life.
We aspire to create products that stand by you in your everyday life. This is why we continue to seek inspiration from moments and stories held precious by the users. We work to create products which will inspire and give fulfillment with every touch and use.
Inspirations may come from dining experiences, interior spaces, or fields such as fashion. Our passion is ignited by diverse cultures and lifestyles. Often our designs are rooted in Japanese traditions and interpreted in a way that fits with the modern lifestyles all around the world.
To make the daily life richer and more comfortable.