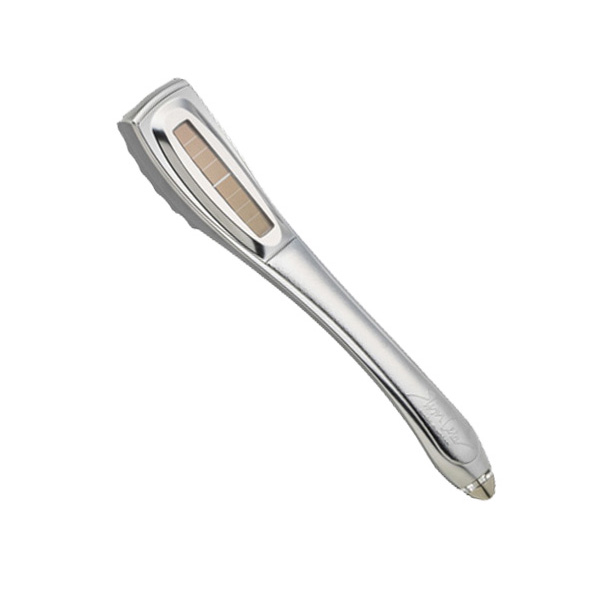 SLIM CERA Plus
Material: 99,999% Pure Germanium
Size: 220*76*40mm
Made in Japan
How to use:
Roll three minutes each time, three times daily.

Use even in the shower or bath.

Effective after washing your face as well as before applying facial creams

A gentle rolling motion is all that is required.

A gentle and pleasant roll is all that's needed.
Give yourself a face-lift with a simple Slim Cera massage.
Revitalise your skin just by rolling. Spa treatment + the power of bedrock bathing.
The Slim Cera Plus has 6 rollers as oppose to 5 in comparison to Slim Cera Classic, easily covering wider areas. The positioning of first roller is moved slightly upwards so that a single spot wouldn't be missed.
There are beauty ceramic components on the third and forth rollers which triggers the generation of far infrared radiation and negative ions.
Far Infrared is the "warm" energy in humans, animals and plants, also emitted from sunlight. The intensity of Far Infrared in human body constantly fluctuates and with higher intensity, we tend to be stronger and healthier.
Benefits of Far Infrared Heat:
Stimulates an increased blood flow, regeneration, circulation and oxygenation.

Promotes the elimination of fats, chemicals and toxins from blood.

Stimulates enzyme activity.

Aids the creation of Nitric Oxide which prevents heart disease and stroke.

Boosts metabolism and enables serious detoxification.

Promotes the rebuilding of injured tissue.

Strengthens and supports immune system.
To maximize Slim Cera Plus' performance, our craftsmen used solar panels which work perfectly under indoor lighting. Slim Cera Plus is capable of generating microcurrent (concentrated at handle tip, the first and forth roller) which stimulates our skin cells.
Microcurrent in aesthetics is often described as "non surgical face lifting" due to the dramatic lifting effect that it has on facial muscles. During treatment, a series of tiny electrical impulses that mirror the body's natural bioelectrical field is delivered to stimulate our skin cells.
Cosmetic benefits of microcurrent stimulation:
Increases blood and lymph circulation

Enhances the penetration of the active ingredients in skincare products

Increases the production of collagen and elastin

Increases protein synthesis, gluconeogenesis and cell membrane transport

Increases mitochondrial activity