Whisky Akashi - Blended Whisky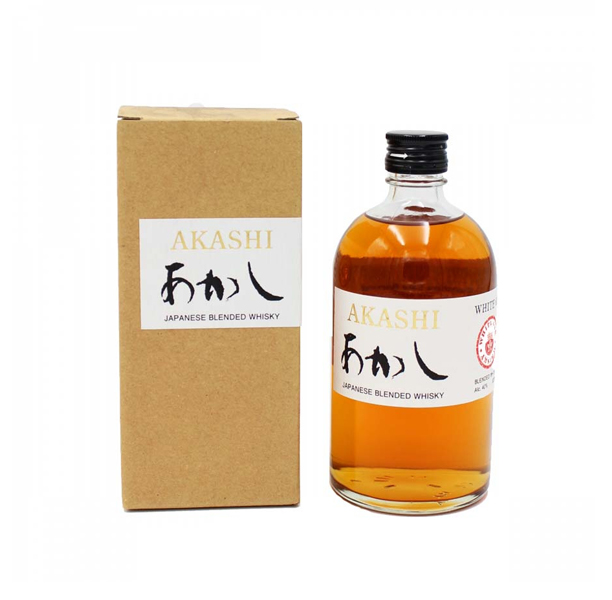 Whisky Akashi - Blended Whisky
Whisky Akashi 40° - Blended Whisky
This Akashi Blended whisky is a version specially produced for the European market using a mixture of Japanese and foreign-made malt and grain whisky. It expresses aromas of chamomile and sherry. Powerful with a sweet and creaming structure, it opens to vanilla, American oak and a sweet and smooth finish.
Au croisement des deux traditions, la distillerie White Oak présente sous le nom Akashi des whiskies avec une vraie personnalité. Ce Blended nous offre un profil frais, gourmand et boisé.
A déguster pur ou en long drink.
Nez : léger et délicat - Céréale, fruits jaunes, miel
Bouche : puissante et équilibrée - Pêche, amande, raisin. La finale est longue et sèche avec des notes épicées
Japanese whisky is a style of whisky developed and produced in Japan. Whisky production in Japan began around 1870, but the first commercial production was in 1924 upon the opening of the country's first distillery, Yamazaki. Broadly speaking the style of Japanese whisky is more similar to that of Scotch whisky than other major styles of whisky.
The production of Japanese whisky began as a conscious effort to recreate the style of Scotch whisky. Pioneers like Taketsuru carefully studied the process of making Scotch whisky, and went to great lengths in an attempt to recreate that process in Japan. The location of Yoichi in Hokkaidō was chosen particularly for its terrain and climate, which were in many ways reminiscent of Scotland (although financial constraints resulted in the first distillery actually being built in the more convenient location of Yamazaki on the main island).
One facet of the style of Japanese whisky comes from the way in which blended whisky is produced, and the differing nature of the industry in Japan. Despite the recent rise of interest in single malt whiskies, the vast majority of whisky sold in the world is still blended. In Scotland, while a particular brand of blended whisky may be owned by a company that also owns one or more distilleries, it is common for blended whisky bottlers to trade single malt whiskies. The components of a blend may involve malt whisky from a number of distilleries, which may be owned by different companies. In Japan, however, the industry is vertically integrated, meaning whisky companies own both the distilleries and the brands of blended whiskies, and do not trade with their competitors. So a blended whisky in Japan will generally only contain malt whisky from the distilleries owned by that same company.
As with everything, Japanese distillers took a product and made it their own. In the last decade Japanese whisky has become popular all over the world. For a nation who is loves the perfection of flavors, it is no surprise that this product has become a "Must Have"